Farm Bill Stirs Local Concern and Action
Food co-op and Farmers Union pursue Congressional advocacy
June 15, 2018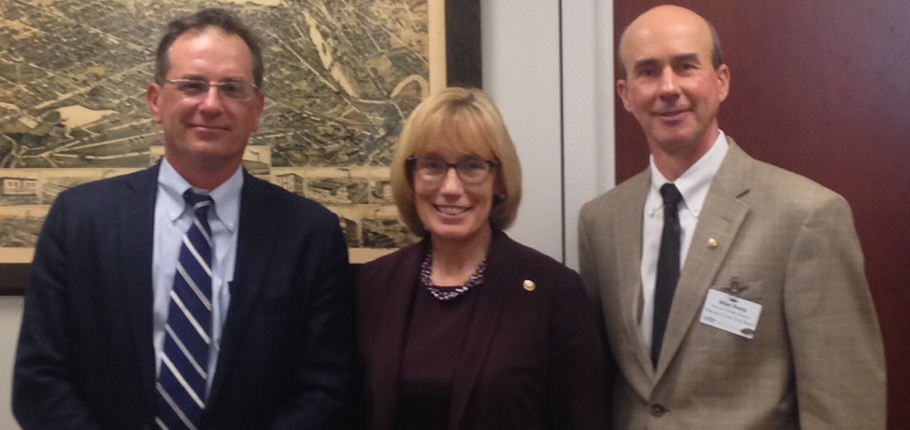 Spurred by last month's release of the House Farm Bill (H.R. 2) – a resolution seen by many as devastating for small farmers around the country – a group of Northeast farmers and a representative of the Hanover Food Co-op Food Stores pushed their patience aside and flew to Washington to share their views of the House proposal in the halls of Congress.
"The recently proposed House Farm Bill was a disaster for the Northeast," said Roger Noonan, New Hampshire organic farmer and President of the New England Farmers Union. "Unfortunately, when it is reintroduced, it is likely to include the same drastic cuts to programs that are vital to our farmers and consumers."
Unless there is a return to the bipartisanship usually seen on agriculture issues, House H.R. 2 could strip away parts of 2014 Farm Bill policy that promote the growth of agriculture and nutrition programs in rural communities across the nation. From substantial cuts to funding for beginning and Veteran farmer programs to conservation and nutrition benefits, H.R., 2 is seen by many as a stark pivot toward corporate farms.
A week before the House vote in May, Allan Reetz, Director of Public Relations at Hanover Co-op Food Stores, was asked to join a delegation sponsored by National Farmers Union (NFU). This team from six states met with legislators and senior aides. Their goal was to make it clear to policymakers – including supporters of the House cuts – that farmers and consumers across the country will be severely impacted by the House Farm Bill.
Reetz and Noonan were teamed with Justin Chase, a diversified farmer from Massachusetts; and Mary Castonguay, NEFU Board Member, Maine organic dairy farmer and Organic Valley member for two days of House and Senate meetings. Farmers and sustainable agriculture advocates from Connecticut, New York and Pennsylvania we part of this Northeast delegation.
Programs geared toward increasing local farmers markets and value-added product opportunities lose funding in the bill, while changes to the Supplemental Nutrition Assistance Program (SNAP) will decrease local sourcing and food options for people classified as food-insecure.
The Hanover Co-op and others in the local food movement link 2014 Farm Bill policies to improvement in regional food production and consumption, as well as to food security and commercial vitality.
The Co-op's 2017 financial reports show the cooperative purchased over $12 million from food producers within a 100-miles of the Upper Valley. "The economic impact of food co-ops throughout the Northeast, is undeniable," said Reetz. "The nation needs more success stories like this, not fewer."
Together, the member co-ops of the Neighboring Food Co-op Association, a federation of food co-ops across New England and New York (to which the Hanover Co-op belongs), purchase over $60 million from local and regional producers annually.
Food Safety is near the top of a long list of Farm Bill concerns voiced by the New England Farmers Union. "We had hoped to see a House draft farm bill that would prioritize food safety training, outreach and assistance," said Noonan. "Instead, the bill fails to provide mandatory funding for or improve access to the Food Safety Outreach Program, it fails to include the proposed Food Safety Cost-share Program which would support specialty crop producers in accessing new markets and complying with the Food Safety Modernization Act (FSMA)."
When it comes to Farm Bill subsidies, Reetz points to the likelihood that agribusiness may absorb funding set aside for small family farms. Analysis by the National Sustainable Agriculture Coalition (NSAC) highlights "lucrative" loopholes for agribusiness operations, including making it easier for "mega-farms to more easily reorganize as family farms, thereby increasing farm subsidy payments to a single farm by hundreds of thousands of dollars a year," according to a blog post on the NSAC website.
"We believe in protecting reasonable programs that strengthen food production on a community-scale, not just for national distribution or export," Reetz said. "Fortunately, New England legislators understand the importance of small producers and the SNAP program."
During their mid-May visit to Washington, fly-in delegates met with New Hampshire Senator Maggie Hassan and senior aides for representatives Kuster, Shea-Porter, Leahy, Sanders and Welch. Reetz added that the delegation shared its concerns with senior aides of Ranking Senate Agriculture Committee member Debbie Stabenow (D-MI) and those of committee Chairman Pat Roberts (R-KS).
Environmental stewardship programs for small farms would shrink due to the near complete reversal of small-farm initiatives found in H.R. 2. The draft farm bill presented by House Agriculture Committee Chairman Mike Conaway (R-TX) effectively eliminates the Conservation Stewardship Program (CSP), the nation's largest conservation system focused on sustainable agriculture.
When reintroduced, the House bill will almost certainly cut the farm bill conservation title by nearly $1 billion and cut funding for working lands conservation programs by nearly $5 billion over 10 years.
In addition to those proposed changes, the House bill would expand definitions of sustainable farming practices to allow funding for the construction of manure lagoons and spray fields at concentrated animal feeding operations (CAFOs); activities that are explicitly prohibited within CSP right now. Small-farm advocates warn that could send much of the funding for stewardship constructs to activities with low or even negative environmental outcomes.
The House bill's stricter work requirements for SNAP recipients have been denounced by members of Congress on both sides of the aisle. Many of them agree that changing SNAP would cause recipients to face greater hardship. Currently, for every meal provided by food banks in the U.S., SNAP provides 12. Reduction in those benefits would inevitably leave food banks scrambling to fill the gap.
John Sayles, CEO of the Vermont Foodbank said in a written statement, "While we firmly support the concept of work and fostering self-sufficiency through the SNAP program, the additional requirements proposed by the House bill go too far. These proposals make no allowance for increased financial burdens, such as child care or transportation, let alone the challenges older Americans face in finding employment."
In a recent interview, U.S. Senate Agriculture Committee Chairman Roberts expressed doubts that changes to SNAP work requirements can pass the Senate. Following a recent meeting with farmers where he shared the stage with Agriculture Secretary Sunny Purdue, Roberts said he is confident the Farm Bill can continue to do good things for SNAP "without damaging the program."
"Whether it is low prices, over burdensome regulations, or unpredictable trade markets, it's no secret that farmers and ranchers are struggling," Roberts said in a statement. "That's why we need a Farm Bill that works for all producers across all regions. Simply put, our producers need predictability – and that's just what our bill provides."
In the past few years, SNAP recipients have been spending more time at farmers markets, purchasing more fresh produce. According to the Farmers Market Coalition, each year SNAP participants spend more than $19.4 million at farmers markets; so besides helping low-income Americans maintain access to nutritious food, that's a significant part of the evolving local food and farm economy.
"From day one, Chairman Roberts and I agreed we would craft a bipartisan bill that works for farmers, families, and rural communities," said Congresswoman Stabenow. "From revitalizing small towns to promoting good stewardship of our land and water, to expanding local food economies, this Farm Bill is a major bipartisan victory."
However, Kansas Republican Congressman Roger Marshall has stated publically that the House has no intention of changing the original draft of H.R. 2 before bringing it back to the house floor on June 22.
Statements like Congressman Marshall's are why representatives of the Hanover Co-op, National Farmers Union and their food system allies promise vigilance.
In his statement on the House Farm Bill, Vermont Foodbank CEO Sayles said, "While we appreciate the Senate's version of the Farm Bill that protects the programs used by those most vulnerable in our communities, it will be key for hunger advocates and lawmakers to keep pushing to protect federal nutrition programs in the final legislation."
Echoing that sentiment, Erbin Crowell, executive director of the Neighboring Food Co-op Association said, "It is more important than ever for our food co-ops and their members to join with our region's farmers and fishermen and speak up for a Farm Bill that works for everyone. The recent vote in the House was a temporary setback for legislation that would have a disastrous impact on our food system in the Northeast. Now is the time to act."
The current Farm Bill was enacted in 2014. It expires on September 30.
Hanover Co-op members are invited to be part of this effort by joining the New England Farmers Union as a "Friend of the Farmer" at a discounted rate of $15.