Hanover Co-op and Willing Hands Earn Award for Hunger Relief Work
Collaboration also praised for environmental benefits
May 7, 2021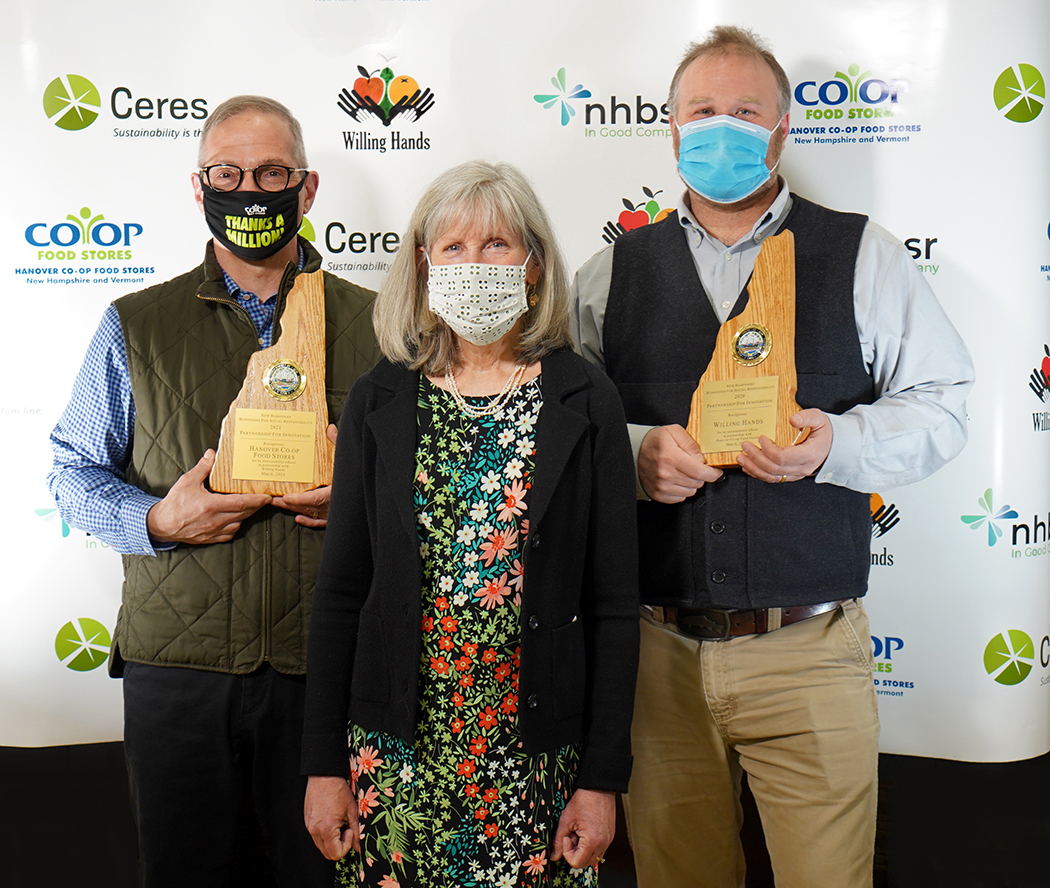 New Hampshire Businesses for Social Responsibility (NHBSR) has named the Hanover Co-op Food Stores and Willing Hands as its Partnership for Innovation recipients for 2021. This statewide honor recognizes partnerships that demonstrate the power of collaborative action for community impact. The award was presented at NHBSR's spring conference.
Founded in 2004, the idea to start Willing Hands grew from Co-op employee Peter Phippen's concern that edible fruit and vegetables — which fell just short of the cooperative's high standards for quality — were thrown in the dumpster. He sought to give that produce to community members who lack access to healthy food.
Following his beliefs, Phippen resigned from the Co-op to start Willing Hands. The Hanover Co-op became the fledgling organization's first partner, and remains a leading supporter today.
Willing Hands has since received nearly 4-million pounds of food from the four stores of Hanover Co-op. In addition to feeding thousands of neighbors, a recent analysis showed this partnership reduced CO2 emissions by over 7-million pounds by diverting that food from the landfill.
Over the years, Willing Hands has grown its list of partners and contributing farms to extend its reach and support for hunger relief efforts across the region.
In addition to the award from NHBSR, the work of Willing Hands earns high praise from Hanover Co-op General Manager Paul Guidone. Guidone said, "The efficiency with which executive director Gabe Zoerheide and his crew distribute food to our region — especially in the midst of a pandemic — is remarkable. Each day, that team along with our employees deliver nourishment, resiliency, and hope."
NHBSR's Executive Director Michelle Veasey hailed this partnership as being central to the Twin State's rapid response to the pandemic's impact. "Food insecurity has skyrocketed in response to the job loss and economic impact throughout our communities," said Veasey. "The partnership between the Hanover Co-op and Willing Hands sent healthful food to those who need it most. Over the years, they created a lasting model of homegrown food-rescue success."
Presenting-sponsor Ceres echoed that sentiment. "Ceres understands the critical role of partnerships in driving innovation and developing solutions to the climate crisis," says Alli Gold Roberts, director of state policy at the sustainability group Ceres. "The 2021 Partnership Award winners demonstrate the power of collaborative action for community impact. We applaud the efforts of the awardees to build stable, strong and healthy communities in the Upper Valley, and appreciate the Hanover Co-op Food Stores support for clean energy policies across New England."
Since 2004, Willing Hands has received 3,707,223 pounds of food from the Hanover Co-op Food Stores.
As a Hanover Co-op Pennies for Change partner, Willing Hands has received financial contributions of more than $151,000 to support its work. (Funding period: June 2016 to February 2021). Willing Hands has leveraged those funds and years of "hauling" fees from the Hanover Co-op to expand its acquisition, storage, and distribution of 12-million pounds of perishable food, in total. Willing Hands serves more than 80 regional food pantries, service organizations, and other outlets such as the VA.
ABOUT NHBSR
New Hampshire Businesses for Social Responsibility convenes, inspires, and supports businesses and their community stakeholder to improve our workplace, our communities, and the environment. Find out more at nhbsr.org.
ABOUT CERES
Ceres is a nonprofit organization working with the most influential capital market leaders to solve the world's greatest sustainability challenges. Through our powerful networks and global collaborations of investors, companies and nonprofits, we drive action and inspire equitable market-based and policy solutions throughout the economy to build a just and sustainable future. For more information, visit ceres.org and follow @CeresNews.