Hanover Co-op Plans Phaseout of Plastic Bags at Registers
Co-op general manager sets target date of spring 2020
March 28, 2019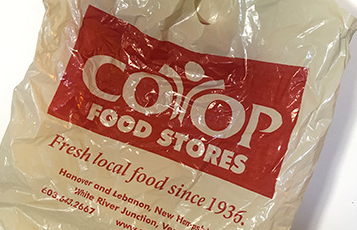 Following more than 30 years of programs and incentives to encourage the use of reusable bags, the Hanover Consumer Cooperative Society announced it will begin to reduce reliance on plastic grocery bags through a planned process over the coming 12 months. Hanover Co-op General Manager Ed Fox made this announcement at the cooperative's monthly board meeting on March 27.
The decision was made based on the cooperatives long-standing sustainability commitments and was informed by the work of a committee of Hanover Co-op board members, employees and members. Part of that group's work was a survey of members and shoppers to hear a variety of perspectives on the issue.

Over the course of the coming 12 months, this effort will involve a number of departments and seek to ease the impact on members and shoppers. The four stores of the Hanover Co-op record nearly two million customer transactions annually. Rather than simply wait for state legislation to be enacted, the Co-op seeks to implement the change in a way that avoids placing an undue burden on membership or its broad range of shoppers.
"We know there are a variety of opinions on this matter, but as a cooperative, one thing can agree on is that we need to reduce our dependency on plastics and this is another step, of many, for our cooperative," said Co-op general manager Ed Fox.
State legislation, which is still evolving, will inform the actions of retailers around the region. But in the meantime, the Co-op's plan is to focus on what is within its control and prioritize key action steps for the coming year. Fox emphasized that this isn't a matter of simply doing the right thing, but doing the thing right.
In addition to programs to encourage the reuse of grocery bags, for many years the cooperative has offered environmental programs, including cork recycling, e-waste recycling, #5 plastic recycling, and paper recycling. Each year it also diverts about 150 tons of organic material from the landfill through our food-waste reduction programs. The EPA has honored its efforts in the sustainable management of refrigeration.
[Below is General Manger's statement shared with Hanover Co-op board at its March 27, 2019 meeting]
Plastic Bags: A Statement to the Co-op Board of Directors
by Ed Fox
Team,
Earlier this month, the New Hampshire House passed HB560, a bill that would restrict the use of plastic bags in the state. If signed into law, the legislation would bar New Hampshire restaurants and food retailers from offering complimentary single-use, carry-out plastic bags. Shoppers would either need to bring their own bags, or purchase bags for 10 cents each. Customers receiving SNAP, EBT, and WIC benefits would be exempt.
The language of the bill is ambiguous and contentious, but the upshot is that we're clearly moving toward a world in which plastic bags may not have much of a future. As we know from recent surveys, Co-op members, customers, and employees have strong feelings about this issue.
Beginning immediately, our co-op will initiate a plan to reduce our dependency on plastic bags, with an end goal of phasing out plastic bags at our Front End checkouts completely by the spring of 2020. Obviously state legislation, which is still evolving, will inform our actions. But in the meantime, anything that's within our control is something we're going to move forward on, and make that a priority for the coming year.
So why are we doing this now? I admit that it would be easier to wait and see what happens with the legislation, then act accordingly when we have to. But I don't want to do that. I want us to be proactive, and do this the right way. Operationally this will be challenging.
To me this isn't a matter of simply doing the right thing, but doing the thing right. This approach is something I'd like for us all to keep in mind. Our Ends call for stewardship on the environment, but they also call for respecting diversity. If we're going to be a broad and inclusive cooperative, we need to respect that we have conscientious members and employees with a wide range of opinions. Though sometimes we have to draw a line, on many issues, there's room for all of us. In this case, I believe that as a cooperative, what we can agree on is that it's only a matter of time before plastic bags are on their way out, and we have an opportunity here to take this issue, break it down into manageable steps, and implement it correctly.
I know we have the collective genius to make this happen. And as we do that, it's important to me that we don't put an undue burden on our membership. In short, I want to make sure we identify and break down barriers in order to make this as painless as possible for those who aren't quite there yet, and respect all points of view. I'm confident that in the year ahead, we can figure this out together.
My thanks to our board, members, and employees for their ongoing engagement in this work. I'd be happy to answer any questions you may have or to talk more about it. In the meantime, as I often say, my door is always open. Thank you.
NOURISH. CULTIVATE. COOPERATE.