Hanover Co-op Retains Top Grade From EPA
Efforts to keep refrigerant emissions low remain strong
October 17, 2019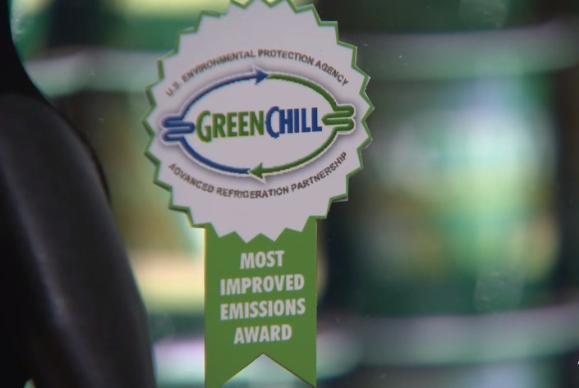 For the third year in a row, the Environmental Protection Agency (EPA) has recognized the Hanover Co-op Food Stores for its continued efforts at refrigerant emissions reductions. As a member of EPA's GreenChill Partnership, the Hanover Co-op is the partner with the Most Improved Emissions rate since its baseline year of 2011.
There are approximately 11,000 GreenChill Partner stores throughout the nation.
Shown (left to right) with this year's award are Hanover Co-op managers and board members Jonathan Garthwaite, project administrator; Emanuel Ajavon, board secretary; Benoit Roisin, treasurer; Ed Fox, general manager.
EPA's GreenChill Partnership works with supermarkets to reduce refrigerant emissions and decrease their environmental impacts. The Partnership helps supermarkets transition to environmentally friendlier refrigerants; reduce harmful refrigerant emissions; and adopt greener refrigeration technologies and environmental best practices.
"The Hanover Co-op should be applauded for significantly reducing the emission of refrigerants from their coolers and freezers," said Tom Land, manager of EPA's GreenChill program. "They are demonstrating what is possible with good management of refrigeration systems and saving the co-op money."
GreenChill partner stores have much lower leak rates than average stores in the U.S. If every supermarket reduced its leak levels to the GreenChill average, the supermarket industry could save more than $156 million in refrigerant replacement costs and reduce emissions by about 30 million metric tons carbon dioxide equivalent every year.