Hanover Co-op's Annual Producers' Fair, a New England Highlight
35 Local Farms and Food Producers Celebrate the Harvest with Consumers
July 24, 2017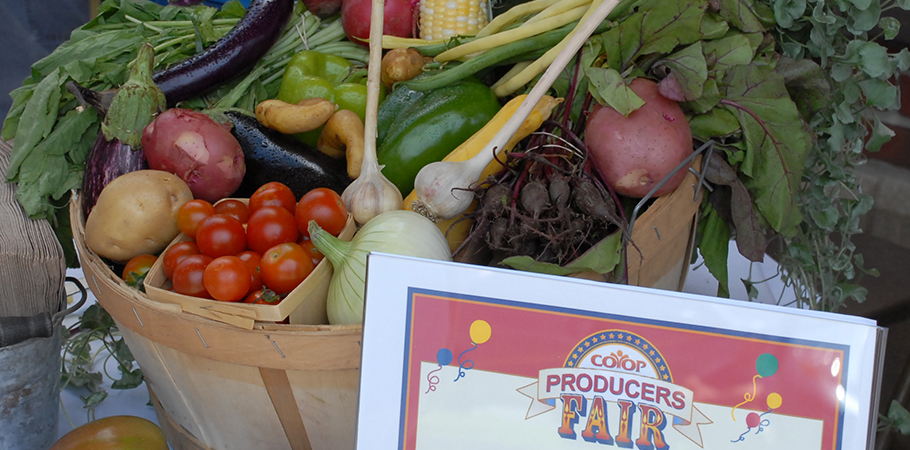 The Hanover Co-op's Annual Producers' Fair is the highlight of summer for farmers and consumers in northern New England. Established a celebration of the harvest, this free event has become a way for consumers to stay connected to local farmers and food producers. It is also an annual opportunity for highlighting the impact small local farms and business have on the regional economy.
This cooperative event is sponsored entirely by the Hanover Co-op Food Stores. There is no cost to attendees or vendors. Food producers provide their own samples, but our Co-op team handles all elements from planning to promotion to clean up.
This year's Producers Fair is set for Saturday, August 12 from 10 to 2 at our Lebanon, NH location (12 Centerra Parkway).
Key points:
Free and open to all
35 local and regional vendors offering free samples
Live bluegrass music
Wagon rides
Community service organizations on hand to share their story
Opportunity for consumers to meet and talk with farmers and food producers
We hold our annual Hanover Co-op Producers Fair to emphasize these cooperative messages:
Buying local helps support small farms and preserve the rural character of New Hampshire and Vermont.
Buying local keeps more dollars in Northern New England's economy.
Local food varieties can be grown for flavor rather than shelf life, so it tastes better.
Buying local connects communities to farms and businesses.
Buying local provides opportunity to try novel foods that reflect seasonality.
Buying local supports bio diversity and food security.
Vendors Include:
Krin's Bakery
Aqua Vitea Kombucha
Vermont Coffee Company
Backroads Granola
Garfield's Smokehouse
Taylor Brothers Creamery
Fat Toad Farm
Red Kite
Jeshua's
White Mountain Kettle Corn
Nichols Syrup
Richard's Vermont Made Sauces
MacNamara Dairy
Green Mountain Creamery
Stonyfield Organic
Cabot Creamery
Butterworks Farm
Walpole Creamery
Vermont Small Batch
Crossroad Farm
MacLennan Farm
Piersons Farm
Springledge Farm
Sunny Brook Farm
Blue Ox Farm
Long Wind Farm
Co-op Kitchen
Vegetaball's Pesto
Harpoon Brewery
Long Trail Brewing Co.
Woodstock Inn Brewery
Farnum Hill Cider
Labelle Winery
Other Attractions Include:
Music from Cardigan Mountain Tradition
Storytelling by Simon Brooks
Hayrides
Face Painting
Kids Activities
Baby Goats from Sunset Rock Farm
Other Tables:
Manghi's Bread
Fresh Cut Watermelon
Vital Communities
Co-op Board
Photo Credits: Hanover Co-op Food Stores