Here's how to make your voice heard in Concord
We're hosting a free workshop on how to advocate effectively
June 17, 2019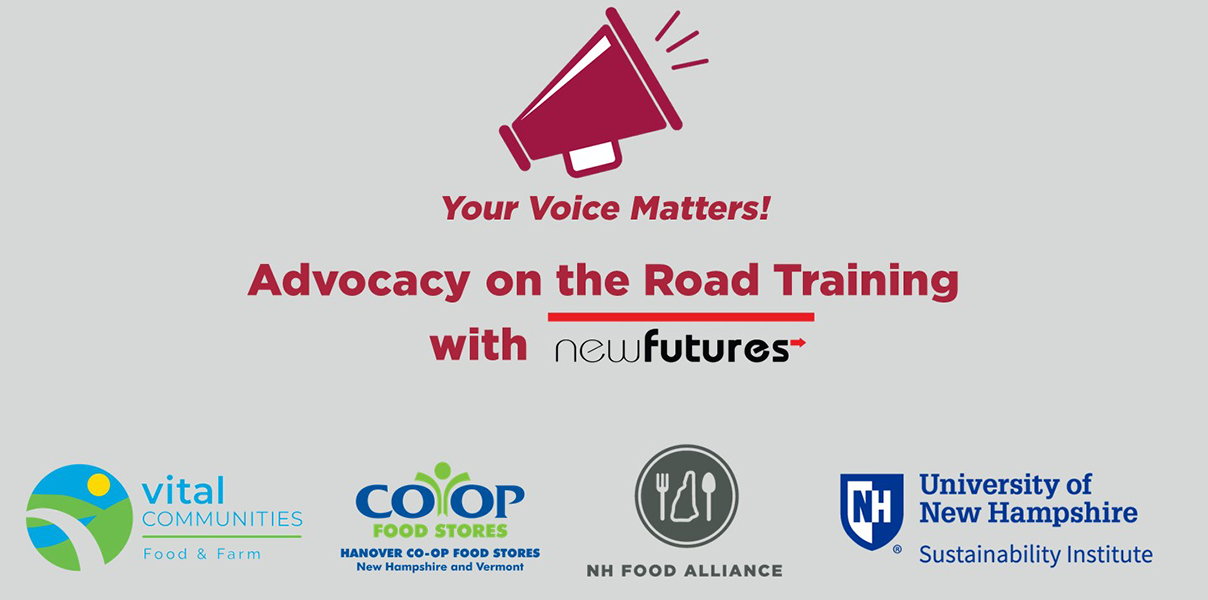 Do you want to make change in the Granite State, but aren't sure where to start? Do you know someone who seeks to grow a stronger New Hampshire? All are welcome at the free ​ workshop held by New Futures Training.
Register here.
This two-hour session will be held at our Lebanon Co-op's Learning Center. Register here. Join us Thursday, June 20 from 9 to 11 and learn how to effectively advocate for issues you care about. Participants will learn about the unique NH legislature, how a bill becomes a law, best practices for engaging with legislators, practical advocacy and communication skills, and more. The main objective is for attendees to understand the inherent opportunity they have to influence the future of our state, and to leave feeling empowered and confident in their ability to take direct action on issues they care about. Afterwards, you'll be better equipped to make a difference in the New Hampshire state government.
This training is part of the New Hampshire Food Alliance's effort to help our network become more active on a variety of issues, including food/agriculture-related policy.
New Futures is a nonpartisan, nonprofit organization that advocates, educates, and collaborates to improve the health and wellness of all New Hampshire residents through policy change. New Futures envisions a State and local communities where public policies support efforts to improve the health and wellness of all Granite Staters. Its training program aims to build advocacy capacity in the state of New Hampshire with the understanding that more community involvement in policy-making leads to the implementation of policies that better serve our state.
Register now, then join us at the Co-op Learning Center inside the Lebanon Co-op at 12 Centerra Parkway, Lebanon, NH. (Just off Route 120, just 2 miles north of I-89 off exit 18.)