Pete and Gerry's Organic Eggs Teams with Hanover Co-op to Launch Industry's First Reusable Carton
New packaging innovation brought to market in under nine months by Cooperative and B Corp neighbors
December 20, 2019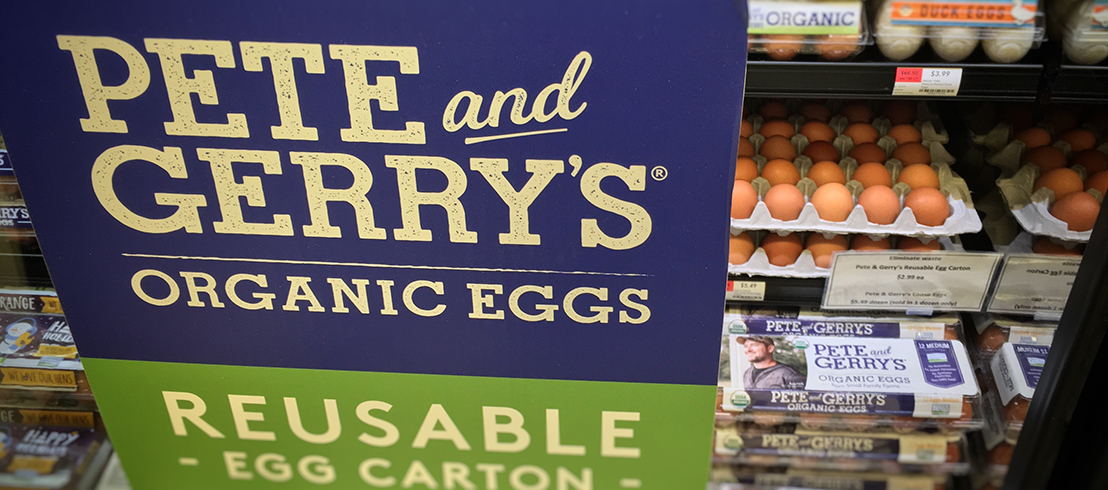 In an effort to further reduce the environmental impacts of its packaging and inspire consumers to adopt new behaviors to lessen their carbon footprint, Pete and Gerry's Organic Eggs of Monroe, New Hampshire, the country's leading organic egg brand and a Certified B Corp., announced the industry's first reusable egg carton. Currently in pilot at the Hanover Co-op Food Stores in New Hampshire and Vermont, the brand has seen a strong response to the program to date, with same-store sales growing weekly and numerous positive consumer messages.
The reusable cartons are made of recycled, durable, BPA-free plastic which can be washed at home and reused repeatedly.
"While we are confident in the sustainability of our current carton, which is made from 100% recycled plastic and has less environmental impact than the Styrofoam or molded pulp cartons used by conventional egg brands, we continue to challenge ourselves to find even better ways to improve our environmental stewardship," said Jesse Laflamme, Pete and Gerry's Organic Eggs CEO. "Reusable cartons are a logical next step in our ongoing commitment to sustainability, moving consumer behavior from recycling to reuse. We plan to expand this program in 2020 to reach even more consumers and amplify the program's impact with major retailers clamoring for this type of sustainable innovation."
In February of 2019, the Hanover Co-op merchandising team was approached by Pete and Gerry's Vice President of Marketing Paul Turbeville. "We knew we needed a solution that would work for consumers and retailers," said Turbeville. "The Hanover Co-op team proved to be ideal partners, sharing space for focus groups, inventory control insights, and adapting their retail display space."
Allan Reetz, Director of Public and Government Affairs for the Hanover Co-op said being a customer-owned food store allows for such nimbleness. "We've been early adopters of great products for the past 83 years. Today, as a $75 million customer-owned grocery store, we're big enough put new innovations to the test, and small enough to swiftly help forward-thinking leaders like Pete and Gerry's."
As one of the most widely consumed, affordable and nutrient-dense foods available, the average person in the U.S. eats approximately 279 eggs per year, or 23 cartons-worth. Just one person replacing their egg cartons with a reusable carton would save more than 1,800 cartons from entering the recycling and waste stream.
"This is a pilot program, but we are emboldened by the initial results and committed to new ways of thinking about how we deliver on our promise to be a responsible force for good," said Jesse Laflamme.
The reusable cartons are currently sold at a retail price of $2.99. Once they've purchased a reusable carton, consumers may fill it up repeatedly from the Pete and Gerry's display of loose eggs which are discounted from a standard dozen, allowing the reusable carton to pay for itself over time.